Animo
Our team
Robson is a Brazilian architect and urbanist from Bahia. He loves landscape design and has a very artistic soul.
Magdalena, from Tanzania, has a background in agro-engineering she wants to optimize sustainability in the agricultural systems.
Nithifidele studied urban planning in Scotland, but comes from Italy, he's specialized with his thesis in Green Infrastructures planning and is very intrested to bring a multifunctional model to the project.
Alyssa has already worked in urban agriculture in the Philippines, where she's from, she wants to focus on the biodiversity aspect of the project.
Mnena is our agricultural economic expert, from Nigeria, she's very interested into food security.
And Alice is a civil engineer in Architecture from Belgium, she wrote her master thesis about Building integrated greenhouses and is over excited like the rest of the team to show what a group like ours can achieve !
Our strengths
The strength of our team comes from its multicultural nature and the many areas of experience from which we come. It is urban agriculture that has brought us together for our new master's degree in this subject, and we look forward to putting our different knowledge into practice.
Our drive
We would like to propose something fresh, where more or less recent techniques would coexist to create new ways of producing food and thus make the city more resilient. This building on the edge of the site will become the link that connects the city and nature, while providing a place for meeting, education and scientific research.
What we want to achieve
We would like to present an innovative project, where greenhouses and buildings would take advantage of each other's strengths to achieve higher yields and a higher quality of life. By combining several techniques ranging from low tech to high tech, the building will become the symbol of the Marina Center Agricultural Park Project through its ambitious architecture.
What are the main starting points of our concept?
Apoema in Brazilian native language Tupi means those who can see beyond. The purpose of our building is to provide a place for meeting and exchange based on knowledge and science. Our building will bring together tradition and innovation, food production and education, as a way to respect and embrace the past, but accepting and promoting changes, as from an Apoema point of view. In this particular case, our building grows with time, like a tree it starts its growth with deep roots and then rushes towards the sky, towards the future. We have in sight the ramping demands that we will face in a future with high urban densities, for food production and propose a building that will take the time to analyze and provide for these needs.
What are the main functions of our building?
We will have in the tower greenhouses disposed in order to optimize the sunlight, educational sector - from kindergarten to research level - offices that can be rented and a restaurant on the rooftop that can improve the income of the building as well as participate on the circularity of the resources on building. We also emphasize the ground floor, where a food court and market will allow the connection between the marina park and the building as well as it attracts the surrounding neighborhood, since it is traditional in China this kind of street market. Above the ground floor, a soil-based greenhouse will provide a good place for this exchange between tradition and innovative practices.
What are the unique selling points of our concept?
Our building brings innovation to agricultural field but not in a meaningless way. From its conception, inspired on the trees metabolism to circulate resources and creates a microclimate, we optimize energy demands, as well as using sustainable materials, for example the laminated timber as main structure and bamboo in other elements of the construction we innovate, although leaving space for traditional manufacturers and artisans. The importance given to research and education spreads throughout the building, since even the visual connection with the greenhouse and agricultural fields can bring attention to a new way to produce and share food, as well as alternative food supply chains and lifestyles.
The distribution of the construction process in three phases spread over 15 years ensures the profitability of the building as it dissolves both investment and environmental footprint. The variety and inextricability of functions ensures that the building can remain alive though the day and years.
Photos
Videos
This project was coached by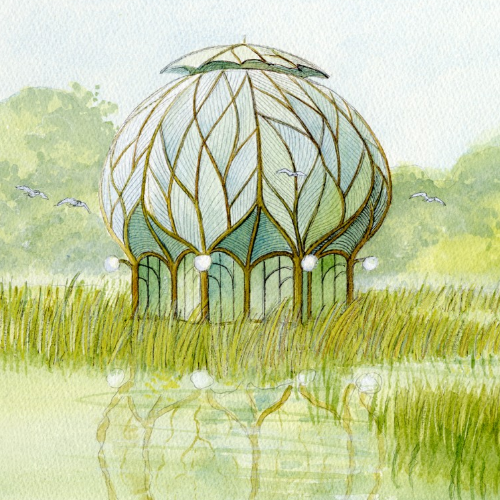 Team info
| | |
| --- | --- |
| | |
| Robson Brito Barbosa Filho | |
| Magdalena Silas Makumbati | |
| | |
| | |
| | |
| | |